The Howgill Fells
The Howgill Fells are a group of hills on the Cumbrian and Yorkshire border, between the triangle drawn from Sedbergh to Kirkby Stephen and Tebay.
The Howgills are separated from the Lake District to the west by the River Lune (along which runs the M6), and in the east by the Dent Valley, and are formed from Ordovician and Silurian rocks, rather than the Carboniferous limestone elsewhere in the Yorkshire Dales, and are characterised by a general lack of walls and fences.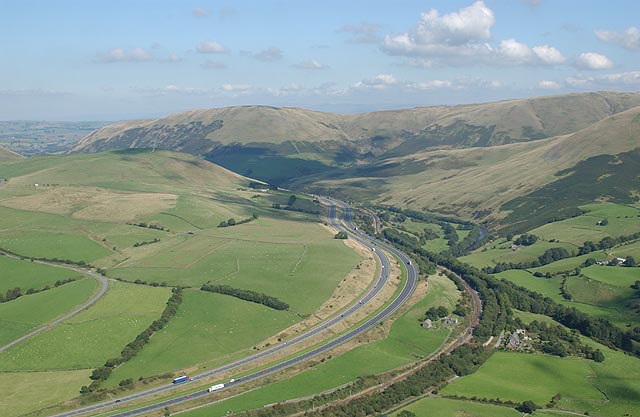 The southern Howgill Fells are also the only part of the National Park to be outside the county of North Yorkshire, being just over the Cumbrian border. The Howgill Fells give fine views of both the Lake District and the Yorkshire Dales.
Just north of Sedburgh there is, with increasing height, Winder at 473 metres, then Sickers Fell at 498 metres, Arant Haw at 605 metres, Great Dummacks at 663 metres, Calders at 674 metres and The Calf at 676 metres. Further north is Yarlside at 639 metres and Randygill Top at 625 metres with, to the west of these, Simon's Seat on Langdale Fell at 587 metres and Docker Knott at 530 metres.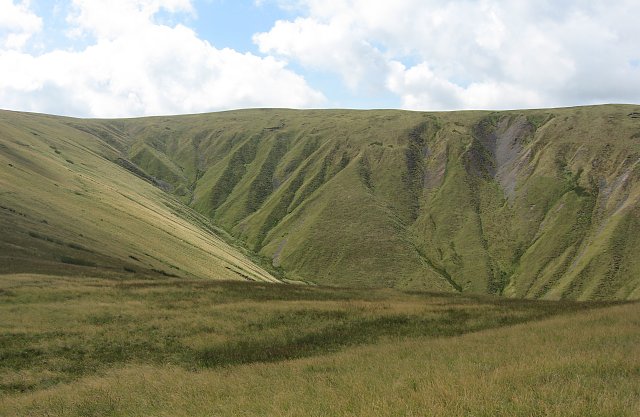 Not in the Howgills, but a few miles to the north of Baugh Fell, are two fells which exceed the highest in the Howgills. These are Wild Boar Fell at 708 metres, and High Seat at 709 metres at the top of Mallerstang Edge with the picturesque Carlisle to Settle railway line running between them.